Choosing your new home paint colours can be a big task & our guide is here to help!

A colour change is a simple and cost-effective way to breathe new life into a room. But as anyone who's browsed the aisles of their local paint store would know, paint colours come in many shades and depths, and choosing which colour will suit your space best is never an easy decision. To save you all that unnecessary stress, we've put together our top tips for finding a colour palette just for you.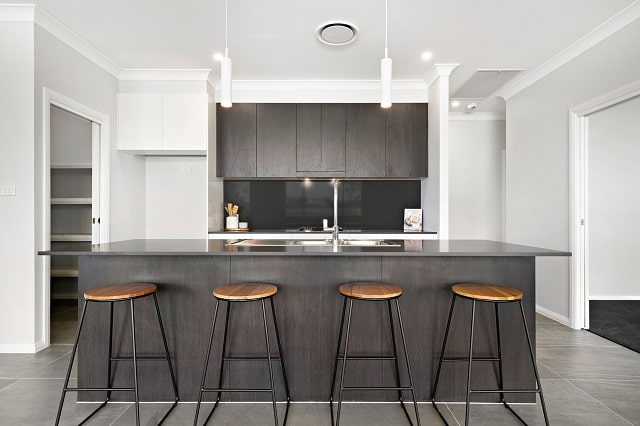 A Guide to Choosing Paint Colours
To save you all that unnecessary stress, we've put together our top tips for finding a colour palette just for you.
Get Inspired

Choosing paint colours is an important step in your process, so it's critical to maintain the focus on how you want your space to look and feel. The aesthetic and ambiance you are trying to achieve in different spaces will inform the colours you choose.
There are plenty of options for getting inspired, including manual mood-boarding or using apps. For example, you can begin to draw inspiration from websites, magazines or even your friends' homes. From here you can create a physical or virtual mood board. For example, you can virtually test colours out with the Dulux Colour App to find inspiration.
You can also look to your flooring and furniture for colour cues, as you will need to choose colours that match the objects occupying the space. It might not make sense to use darker paint tones if you have dark flooring or more colourful furniture/decor. Instead, lighter paint tones might work better to open up the space and let your furniture stand out.
Test Your Samples

The best way to ensure you're happy with the colour palette you've chosen is to swatch it directly on the walls to get a true sense of what it'll look like. Cover a generous area and leave it on the walls for at least a week, you should be able to see the different effects sunlight and artificial light has on the colours which will help you decide whether it's for you after all. Colours tend to come out darker on walls than they appear on paint samples.
Remember, it's better to spend a small amount of time and money testing different colours or shades. Rather than putting in a lot of effort and expense painting an entire room to discover you don't exactly love the colour.
Effects of Lighting

Natural lighting is always best to grasp what a colour truly looks like. The amount of natural light your space gets should be a key decider in selecting a paint colour. Little to no natural light can make darker shades feel encroaching. Whereas too much natural light can cause lighter shades to become overwhelming.
However, sometimes it's easier said than done to get natural light coming into your home. In this case, it's worth considering how the different lights you might have within your home will affect the tone of different paint colours.
Many households, especially new homes, use LED lighting in the majority – if not all – of their rooms. Some homes may also use incandescent light bulbs depending on their house and what they use. Both LED lighting and incandescent lighting tends t bring out brighter tones in warm colours like yellow and red. This means warm colours will appear brighter, while cool colours might not benefit much from this type of lighting.
Fluorescent lighting on the other hand brings out more tones in cool colours, such as blues and whites. While fluorescent lighting is less common in many homes, where it is installed, it can provide a lighter and brighter space.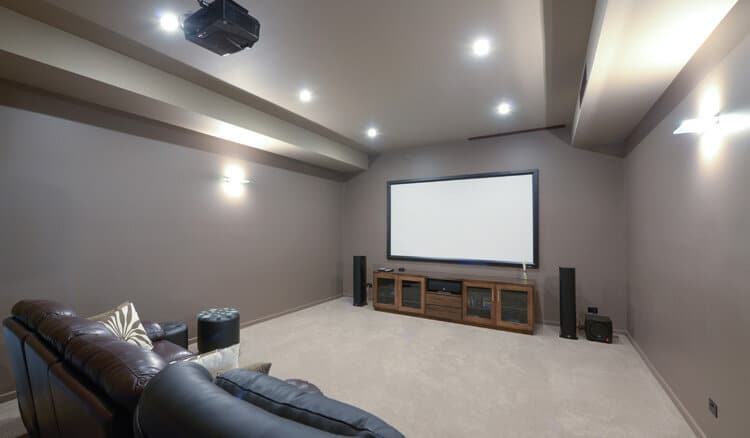 How to Find the Best Interior and Exterior Paint

Now that you have picked your colour palette, you can find the paint type you want. One of the most important aspects of painting any space is picking which type of paint and sheen is best for that area. While we know interior and exterior paints are different, choosing which type, sheen and brand is most suitable can be challenging.
What to Consider When Choosing Interior Paint Colours

To find the best interior paint, there's three things you need to consider: the room you're painting, what finish you want and budget: 
Room – when selecting a paint, you need to consider what the space is used for, for example, hallways need hard-wearing paint that's easy to clean, whereas bathrooms require moisture-resistant paint to stop mould from growing.

Interior Features – when choosing your paint colours and finish, you'll need to take into account the interior features of your home. Do they require special treatments or paint type? Interior features can include plantation shutters, roller blinds, lighting features, decor frames and more.

Finish – the higher the gloss level, the more durable the paint. This is why gloss paints are most commonly used on doors, door frames and window sills. However, the right sheen for you will depend on the space you're painting and how you want it to look and feel. Sheens can vary between brands, so it's best to get samples and test them.

Cost – high-quality paints require fewer coats and will last longer than budget offerings, however they can cost twice as much. When buying paint remember to take into account the spreading rate and number of coats needed when calculating value for money. A high price tag doesn't always mean quality paint.
What to Consider When Choosing An Exterior Paint


Exterior Material – Whether the house exterior is rendered, brick, fibro cement, masonry block, concrete or timber weatherboard, it's important that the paint you choose will work on your exterior's surface as the formulations of paints used for each surface can be different. Painting wood with a masonry repair paint or a high build render can cause it to become scaly. Luckily, most exterior paint tins clearly identify their purpose, but if you're unsure consult with the store professionals.

Climate – Another aspect to be conscious of when selecting exterior paint is the climate you live in. The purpose of exterior paint is not just to add a pop of colour to your house but help protect it from the harsh elements and strengthen it. Unlike interior paint, exterior paint should never be done on the cheap as it'll cost you more later.
For more information on paint colours for your home – interior or exterior – or if you'd like a quote to bring in your local professional house painters, contact us on 0478 798 854 or request a quote.
Gavin, is the founder and director of Hunter Coast Painting who are experienced Newcastle Painters. Combining 10 years experience in the industry and having worked on multi-million dollar homes in Europe and Australia, Gavin is able to provide a wealth of knowledge and experience.