Paint is a versatile and cost-efficient way of refreshing your home's interior and exterior walls and surfaces. Whether you're just looking to touch-up certain areas of the property or you're taking on a big renovation project, it's worthwhile to know everything there is to know about paint. Yes – there's a lot.
In this guide, you're going to get a handy breakdown of all the different types of paints, their uses, what they're good for and where they fall short. Having expert knowledge when it comes to paints will get you the finish you desire without having to spend more money on correcting your mistakes.
Painting is a fairly straightforward method of updating the home, but if done wrong, it can cause you a lot of hassle.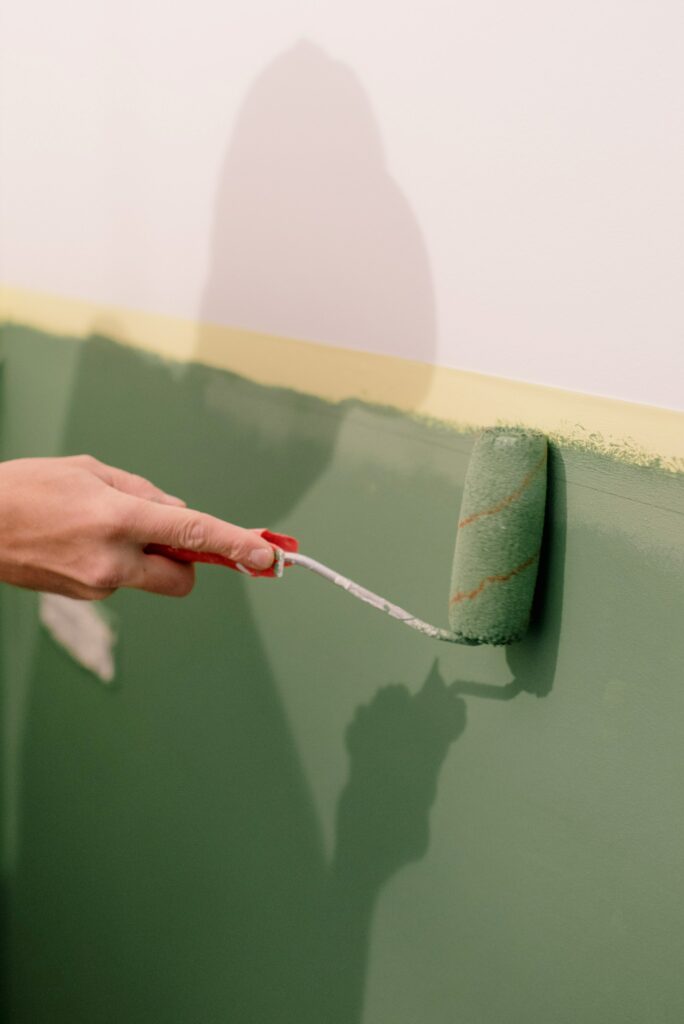 The Different Types of Paint and Their Uses

There are several different types of paint that are worth knowing about, and each has its own pros and cons. Why are there so many different types, we hear you ask? Well, it can often depend on the finish you're going for or the type of surface that's being painted. Cost can also be a factor in the type of paint you go for.
Primer Paint

Primer paint is a great way to provide a seamless finish. These will often be either oil-based or water-based primers. With oil-based primers, you can use them with both oil or water-based paints.
Primer is a key part of the painting project, and if it's missed, you'll likely end up with poor or average results. That can often mean you have to live with those results or spend the money to do all the work and effort again. It prepares the wall for the paint to bond and adhere to properly.
Best for:

Best for any type of surface but particularly good on stained woods and metals. Any surface that's being painted can benefit from primer paint.
Pros: 
Stops old paint from bleeding through.

Provides a more seamless and high-quality finish.

No need to waste extra coats to try and cover up previous paint.

Can be used with both water-based paints and oil-based paints.
Cons: 
Sometimes the primer you get might not match the certain brand or make of paint you want.

The extra cost of the primer on top of the paint and painting services.
Tips for applying paint primer would be to apply the paint with a paintbrush around the edges first before working your way in. Some primers may need one or two coats before moving on to the next stage of the painting process.
Water-Based Paint

Water-based paint is a safer option for anyone who is conscious about paints where oil or other harsh chemicals are being used. They're also a lot easier to use and clean up than oil-based paints. There are several advantages to using water-based paints.
Best for:

This would suit a housing or commercial project where drying time is important for tenants to get back into the property and live/work in it safely. For any homeowners who aren't looking for a heavy odour and want a quick paint job.
Pros: 
Easy to clean up with a bit of soap and water.

Quick-drying.

Low in VOCs (Volatile Organic Compounds), so fewer odours.
Cons: 
Isn't as resilient or long-lasting as oil-based options are.

More costly than a lot of other types.

User-friendly over durability.
Tips for applying water-based paints are to remove any loose dust with dry brushes or a vacuum. Then wet the surface with a damp cloth to help with adhering the water-based paint to the surface. It should be touch-dry within the hour.
Oil-Based Paint

Oil-based paints, otherwise known as solvent-based paints, are great for helping provide a durable and water-resistant finish. They are often used by professional painters looking to provide a hard finish and are great for stain blocking.
Best for:

Ideal for stained surfaces and coating metal that tends to rust. If your property is prone to a lot of harsh rain and wet conditions, an oil-based paint could come in handy.
Pros: 
Oil paint is a reasonably-priced option for most homeowners and commercial projects.

It lasts a long time and won't show any signs of damage or wear.

Good if you've got a paint that you're committed to having for the foreseeable future.
Cons: 
Drying time for oil paint can take several hours, depending on the property's ventilation.

There's a strong odour with this paint that can linger for a while as it dries.
A few tips when using oil-based paints are to keep stirring it regularly as the oil can quickly separate from its paint counterpart. Make sure you also use a brush or roller that's been designed to work with oil-based paints.
Latex-Based Paint

Latex paint is typically used for exterior surfaces and is easy to work with. It's the right paint if you've got any surface with a lot of direct sunlight facing it, and it helps block out any moisture caused by particularly harsh weather conditions.
Make sure to choose one that's specifically for exterior use when utilising this type of paint outdoors.
Best for:

Ideal for stained surfaces and coating metal that tends to rust. If your property is prone to a lot of harsh rain and wet conditions, an oil-based paint could come in handy.
Pros: 
Latex paint is easy to clean up with soap and water.

Great for painting the floor.

Dries fast and works well even when painting concrete.
Cons: 
Takes a long time to cure with rough surfaces, often causing it to crack.

Not useful for surfaces or furniture that's being touched or moved.
Enamel Paint

Enamel paint is handy when it comes to providing a hard and glossy finish. This is typically a paint that's used on smaller projects around the home. It's used to mainly touch up things like outdoor grills or perhaps railings that require a top-up of paint. It has a glass-like quality that has a nice shine to it.
Best for:

Good for small projects like outdoor gates and railings or for use indoors when topping up the paintwork on metal surfaces.
Pros: 
Long-lasting and durable.

Provides a polished and glossy look that is high-quality.
Cons: 
Longer to dry compared to other paints.

Enamel paints can have a negative effect on the environment.
A tip for using enamel paint is to remove any dust first from the surface with a dry cloth before applying. Use a quality paintbrush and use even coats. Try not to soak the brush too much.
Acrylic Paint

An acrylic-based paint is suitable when it comes to painting interior walls as well as ceilings in some cases.
It's also handy for using on the exterior of your home too. There's a variety of finishes from matte to glossy, depending on your preferences.
Best for:

Good for most places from interior to exterior surface walls. It makes for a very versatile paint type.
Pros: 
Drying time depends on the finish but is fairly quick to dry.

The right paint for most sized projects.
Cons: 
Whilst it's quick to dry, the curing process can take several weeks.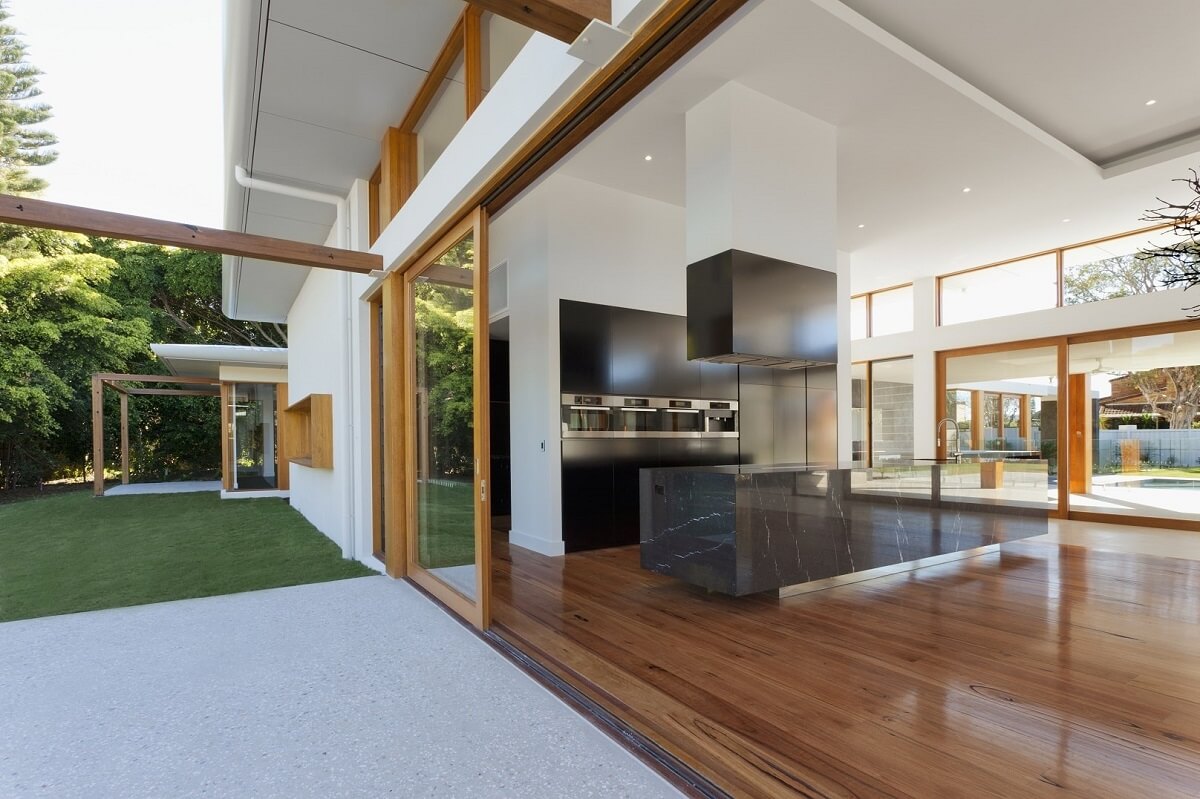 The Different Types of Paint Finishes

Just like different paints, there are different options for paint finishes. With that being said, here are a few options to consider.
Flat Finish

Flat finishes are good for when you want a luxurious and refined finish to your interior walls. It's good for those surfaces that aren't going to be touched that often, for example, ceilings or high walls.
Pros: 
Creates a low-reflecting surface that helps rid the appearance of any imperfections in the surface.

A very affordable paint for most DIY projects.
Cons: 
Not suitable for bedroom or living room spaces where grubby hands can be in reach of the painted walls.

If you're looking for durable paint, this might not be the best choice.
Matte Finish

Matte is a great option for a slightly glossier finish than what flat paint provides. There are minor differences to matte paint that makes it different, though. It's a lot more durable and is an ideal choice for many areas of the home. Many like the appearance that a matte finish gives, and it can be used on any walls or surfaces you think would fit best.
Best for:

Best to use on all walls but ideal for using it on the ceilings where it's going to create a nice effect and will be durable for years and years.
Pros: 
Durable and long-lasting.

Great for hiding cracks or inconsistencies in the surface.
Cons: 
Can be subject to wear over time if used in high-traffic areas.
High Gloss Finish 

This type of gloss paint is a very shiny and stain-resistant finish. This is perfect for anything that tends to get a lot of scrubbing, whether it's cabinets, skirting boards, etc.
Like semi-gloss finishes, it's also good for use in wet rooms. It can be handy and is typically used on railings and banisters too. Gloss paint can provide a great finish and is easy enough to clean.
Best for:

Good for painting furniture, cabinets and other areas that will often need cleaning down. Wet rooms can also benefit from this gloss paint finish.
Pros: 
Always a stylish and fashionable finish like semi-gloss paints.

Makes the space brighter and bigger.

Easy to clean.
Cons: 
Smudges and scratches show easily.

Generally higher price points and more expensive to use.
Satin Finish 

A satin finish provides a sheen but one that's smooth and velvety in its appearance. It's also washable, so quite similar to the eggshell finish.
Satin paint is slightly glossier than eggshell and is just as durable to be used in any part of your home that requires it. It provides a good balance between flat paint and semi-gloss/high gloss paint.
Best for:

Use in the hallways, on any doors within the home and on woodwork. It's also popular for use in bedrooms and dining spaces.
Pros: 
Reflects more light than matte.

Stands up well to washing and in high-traffic areas.
Cons: 
Doesn't hide imperfections on the surface and on the quality of the paint's application.

Makes applying touch-ups difficult.
Semi-gloss Finish 

Semi-gloss paint adds a slight shine to the surface it's painted on. It's good in rooms like kitchens and bathrooms as it can deal with being washed and scrubbed. It's another good one for covering up imperfections.
The paint has a nice eye-catching finish and is durable for use in spaces where a lot of dirt and food can spill onto the surface.
Best for:

Useful for wet rooms like kitchens and bathrooms that are subject to high levels of moisture.
Pros: 
Semi-gloss paint stands up well to moisture and is durable when washed.

Provides a reflective surface that's good for making the space feel bigger.
Cons: 
Flaws are noticeable, which can be apparent when light hits the gloss-covered walls.
Eggshell

Eggshell delivers a low lustre effect and works well for adding a decorative finish to the surface. The paint is a lot more durable than most and allows you to wash your walls where required.
Consider this finish the next step up from the matte option. It's somewhat like matte paint but glossier. The finish of this paint will be one that stands up to a fair bit of wear over the years. It's a good mix of practicality and a finish that looks desirable.
Best for:

Great for most walls that tend to get plenty of high traffic, as well as those that don't tend to get a lot, but more durability is needed above its matte alternative.
Pros: 
More durable than matte paint.

Ability to wash your walls to remove scuffs and surface marks.
Cons: 
Difficult to touch up.

Useful for high traffic areas but can be subjected to scratches.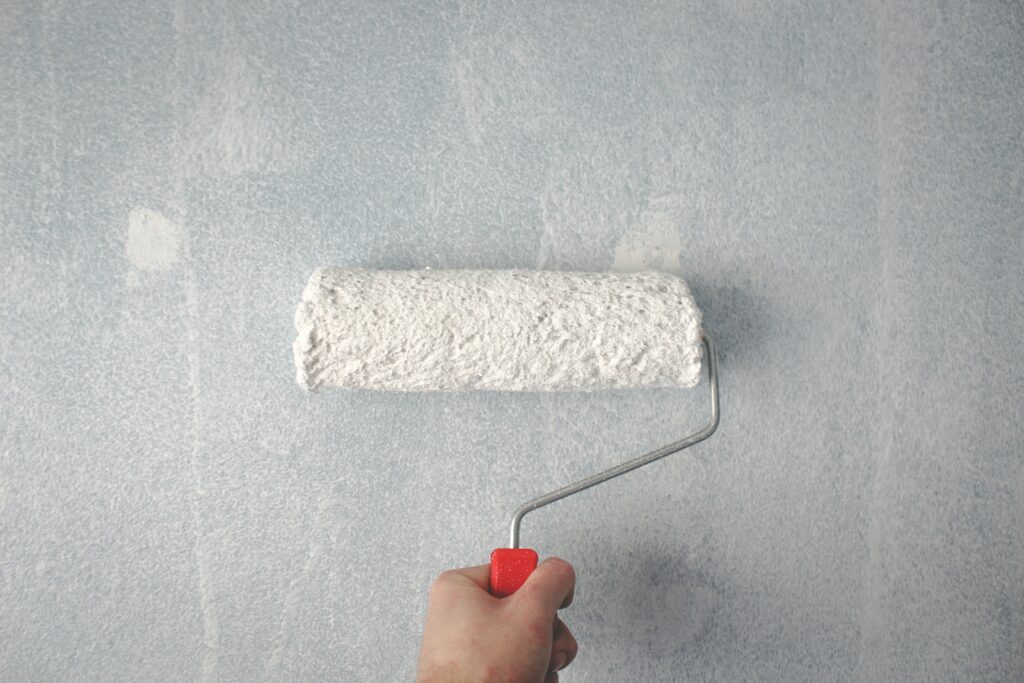 Other Paint Types Include

There are some other specialty house paints available that are worth knowing about if the above options aren't suitable for your home updates or renovation projects.
Spray Paint

Spray paint is typically used in specific areas of the home. With home interiors like your side tables, shelving and even fabrics, a spray paint job is a great way to update the style of furniture. It's often used on older furniture and appliances.
The benefits of spray paint are that it delivers a smooth finish and can be very helpful for getting those hard nooks that are somewhat difficult to reach with any roller or paintbrush. You can also get creative with wall art when it comes to spray paint. Whether that's free-hand like many graffiti artists will do or with the use of stencils.
Chalkboard Paint

Besides offering a matte look, it's also different to many of the other paint types that you can get. With chalkboard paint, there's no prep work needed, and it offers good coverage and durability. It's water-based, so it's low in VOCs (Volatile Organic Compounds). This means you'll barely get any nasty smells that typical paint will have.
The only cons will come down to the cost as it's fairly expensive in comparison to other paints, and you'll need to wax it in order to prevent it from getting scratched easily.
What happens if you don't use primer before painting?

Applying a coat of primer seems like a lot of effort for anyone painting their home themselves, but it can help to ensure a seamless finish when painting. For example, if you don't use a primer, there's a risk that some of the paint finish in areas might not be consistent.
The primer acts as a double-sided sticky tape that bonds the finishing coat to the surface you're painting on.
Is acrylic paint waterproof?

Acrylic paint is water-resistant to a certain degree, but it's not entirely waterproof. In order to make it more resistant to water, you'll need to apply a sealant. This requires you to also prepare the surface beforehand in order to get the right finish and for the coats to bond properly.
Can you paint over oil-based paint without sanding?

Yes, you should be able to paint over oil-based paint. However, without sanding, you'll need to prime the surfaces first with a high-bonding primer. That will allow the painting you do over this oil-based paint to be clean and intact. Make sure you allow the primer to completely dry first though.
Is matte finish washable?

With matte, although it's great for hiding certain issues within the wall, they can get scuffed and marked easily. With matte paint, you're not going to be able to easily wash it, so it's worth knowing this before going with this type of finish.
Final Thoughts

There are plenty of paint choices and finishes to choose from to get the right look and aesthetic you want for your home or business. Make sure you experiment first and try out paint samples before making a final decision.
If you are looking for professional help on your next painting and decorating project, contact us today!
Gavin, is the founder and director of Hunter Coast Painting who are experienced Newcastle Painters. Combining 10 years experience in the industry and having worked on multi-million dollar homes in Europe and Australia, Gavin is able to provide a wealth of knowledge and experience.